Piece of the Month
Remembering Max through his work
Max's 9th Symphony
Marking eleven years since the crucial work saw its premiere in Liverpool
As we welcome in the new regency of King Charles and a new chapter for the United Kingdom, here at the Max Trust we invite you to explore Max's tentative and exhilarating 9th symphony – dedicated to Charles' predecessor, the late queen Elizabeth II, on her Diamond Jubilee. This month marks the 11th anniversary of the momentous work, expressing feelings of deep conflict and hesitant optimism.
Work started for the symphony between December 2011 in Lazio, Italy and reached its completion in March 2012 at Max's home in Orkney. The work was premiered by the Royal Liverpool Philharmonic Orchestra under Vasily Petrenko and took place at the Liverpool Philharmonic Hall in 2012.
On the piece's origin, Max recalls'I was in the church of Santa Maria del Popolo, Rome, and realised the potential of the musical equivalent of a central nave with side chapels, where the nave is of one consistent style, and the chapels have other styles, often of a clashing later period, yet still maintaining, because of symmetrical relationships, some kind of strained unity.'
The work consists of one continuous movement divided in two parts, the first starts with a slow introduction presenting basic thematic material where an additional brass sextet, placed to one side of the orchestra, interjects with fanfare flourishes. This is followed by a lively section that takes the form of an allegro possessing the echo of the traditional sonata form. Again, this Allegro is greeted by interruptions from the brass players with strident military style marches. Commenting on these interjections, Max wrote these were meant to 'bear no disrespect for military music or bands as such' and were in fact 'an opportunity to bear witness, in purely musical terms, to what I can only consider, at the deepest and most heartfelt level, our disastrous interventions in Iraq and Afghanistan'.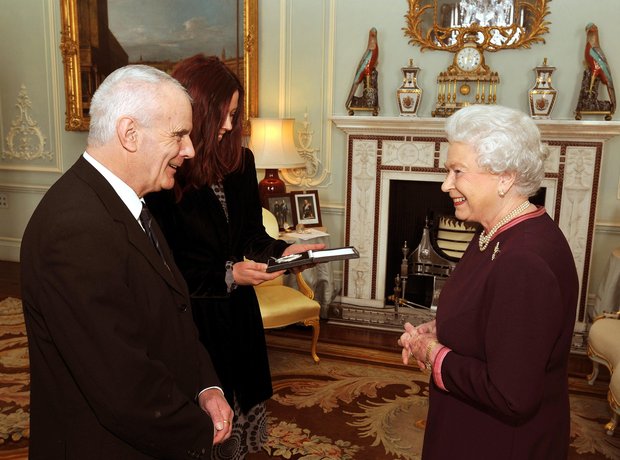 Peter Maxwell Davies and Her Majesty Elizabeth II
In the second section of the work, the brass sextet integrates itself into the orchestral texture in a spirit of reconciliation. Seeking an up-lifting ending to this expressive work, Max looked to a composer who had long served him for inspiration and guidance, Joseph Haydn. Remembering his String Quartet op. 54 No. 2 with its slow movement finale, a precursor to Tchaikovsky and Mahler, Max integrates fragments of the quartet. A reworking of the third movement of Haydn's trio emerges, inviting a change in mood to a cautious optimism
Feeling it would be 'morally indefensible' to give the work a triumphant ending, Max's subtle finale is commented on by FourOverFive's review of the premier: '…the music gains in brightness and clarity, to the point where, a few minutes from the end, the orchestra as one suddenly bristles with energy, and for a short time works together in a climactic peroration. But Max pulls the symphony away from this, concluding by allowing the different sections of the orchestra to speak one final time before falling back to a sober, minor-tinged ending. Not so much triumph as an expression of hope for a future that, if everyone works together like this, might just be possible.'
Perhaps the composer himself said it best: 'what happens is as positive as I could make it: the slow introduction returns, with even more ebullient fanfares, and all the diverse elements come together in a full-throated imploration for peace, reconciliation and a true democracy, even in quite difficult circumstances.'
Below you can find the first part of the 9th Symphony performed by the Helsinki Philharmonic
Kommilitonen! (Young Blood)
Marking thirteen years since the political opera had it's premiere at the Royal Academy of Music
This past month marks thirteen years since Max's opera Kommilitonen! (Young Blood) premiered at the Royal Academy of Music in the spring of 2010. This powerful work combating themes of oppression, with David Pountney as librettist, places itself as a key part in Max's work in Opera and Music Theatre.
As Anthony Tommasini of the New York Times remarked: 'There are many impressive things about Kommilitonen!... Best of all is Mr. Davies's exhilarating score. Here, for once, is a modern opera that exudes musical modernism.'
The piece consists of three interlocking stories of students involved in political action in three different situations. "Die Weisse Rose" was the name taken by a group of students at the University of Munich, led by Sophie and Hans Scholl. They produced leaflets protesting against the National Socialist government of Germany in 1942-3 until they were arrested and guillotined. "Soar to Heaven" follows two characters, Wu and Zhou, involved on opposite sides of the Cultural Revolution in China. "The Oxford Revolution" tells the story of James Meredith, who fought a lonely battle against segregation and racial prejudice to become the first black student to enrol at "Ole Miss", the University of Mississippi, in the USA.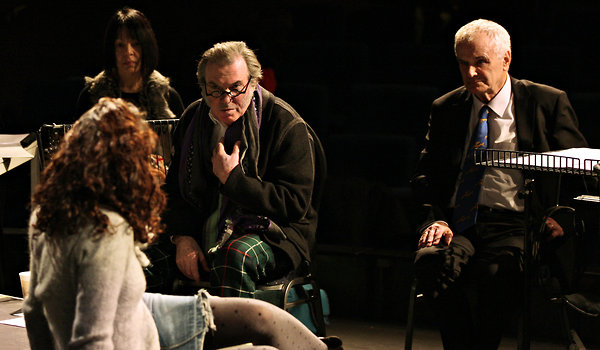 David Pountney and Peter Maxwell Davies rehearsing in London
Below is a short preview of the work from it's performance at the Stadttheater, Bremerhaven.